Nancy Schouweiler, District 4~Dakota Co.
Current term expires 2016
Served on County Board since 1999
 Telephone:
651-438-4430
(Office)
651-455-6440
(Home)
Mailing Address:
Administration Center
1590 Highway 55
Hastings, MN 55033-2343
Home Address:
4000 90th St E
Inver Grove Heights, MN 55076-3727
District 4 Commissioner Schouweiler is past President of the Association of Minnesota Counties and is a member of the National Association of Counties Justice and Public Safety Steering Committee. She also serves on the Minnesota State Advisory Council on Mental Health's Subcommittee on Children's Mental Health by Governor appointment.
_______________________________________________________________________________________
A call was made to Nancy Schouweiler, Dakota Co. Chair, Board of Commissioners on Monday, April 25, 2016 to discuss refusal to provide discovery/public data by Dakota County for Case No. 19HA-CR-15-4227.
Readers may recall that a complaint was filed on 2/21/2016 against Dakota County Attorneys James Backstrom, Philip Prokopowicz, and Kathryn Keena for illegally withholding evidence in my criminal case.(Click on documents to zoom)
Ms. Schouweiler indicated that she was ordered not to get involved in any individual cases by her "attorney". What??? . .Why would commissioners have to be lawyered up? She also stated that the only function the county commissioners have over the county attorneys office is the budget
Well now, the way I see it is that the county will only do what commissioners authorize it to pay for. So, I would think that the budget is the main tool for affecting policy and managing county employees, which of course includes the county attorneys.
Excerpt From The ASSOCIATION OF MINNESOTA COUNTIES
County commissioners are elected officials who oversee county activities and work to ensure that citizen concerns are met, federal and state requirements are fulfilled and county operations run smoothly.
Coordinate activities of the county board, central administration and county departments with those of the independently elected officers, including auditor, treasurer, recorder, attorney and sheriff.
Oversee the county personnel system: authorize the number of county employees, establish salaries and conditions of employment, approve a county benefit, schedule, negotiate and approve labor agreements, supervise appointed county department heads, participate in and approve the recruitment and employment of key county employees, and oversee the implementation of the county pay equity plan and the county affirmative action/equal opportunity plan.
County commissioners also authorize the application for and/or receipt of funds from federal and state governments and their use within the county budget.
What are some of the federal funds that the county receives that led me to the criminal charges that were made against me? Well, as I've learned from my brilliant friend Victoria at familycourtmatters.wordpress.com, the family law system is incentivized to divert billions of dollars to unfit and unwilling fathers through the Health and Human Services Healthy Marriage, Responsible Fatherhood and Access & Visitation initiatives.
There is very little oversight of this money, which means that such programs have gotten away with using fatherhood funds to assist abusive and violent fathers in custody battles against protective mothers.
These fathers are told that they have two choices — risk jail for failure to pay child support, or embark on a custody battle to take the children from the Protective Mother and thus eliminate child support altogether. What would you choose? Thus, fathers who have had little contact with their children for years, who have physically and/or sexually abused the children and their mothers, often fathers just being released from jail, end up fighting and succeeding in getting custody with the collusion of family court services and mental health professionals.
THE SOLE REASONS that children are being stolen from their families and homes are the financial incentives associated with each child and circumstance. There is federal grant money given to states and child placement agencies to CREATE SITUATIONS THAT DO NOT EXIST TO GENERATE THESE FUNDS!
The Office of Family Assistance (OFA)  administers several key federal grant programs, including the Healthy Marriage and Responsible Fatherhood  Grants. These programs foster economically secure households and communities for the well-being and long-term success of children and families.
HEALTHY MARRIAGE INITIATIVES
Healthy Marriage and Relationship Education Program Overview
The Healthy Marriage and Relationship Education Grant Program (HMRE) is part of the U.S. Department of Health and Human Services (HHS), Administration for Children and Families (ACF) efforts to promote healthy marriage at the community level.  The Healthy Marriage Program funds organizations that combine marriage and relationship education efforts with a robust effort to address participation barriers and the economic stability needs of their participants. The programs directly, or through the affiliates or partners with which they are collaborating, have a physical presence in a community, city, or county where services are provided.
RESPONSIBLE FATHERHOOD INITIATIVE
New Pathways for Fathers and Families Grant Program Overview
The New Pathways for Fathers and Families Grant Program (New Pathways) is part of the U.S. Department of Health and Human Services (HHS), Administration for Children and Families (ACF) efforts to support responsible fatherhood. The New Pathways program funds projects that integrate robust economic stability services, healthy marriage activities, and activities designed to foster responsible parenting.
New Pathways programs provide services to promote responsible parenting (e.g., promoting positive father-child engagement, counseling, mentoring, and mediation; teaching parenting skills); to foster economic stability (e.g., job training, employment services, and career-advancing education); and to promote or sustain marriage (e.g., enhancing relationship skills; education regarding how to control aggressive behavior; disseminating information on the causes of domestic violence and child abuse)
New Pathways grantees must concurrently implement all three Promoting Responsible Fatherhood Authorized Activities (Healthy Marriage, Responsible Parenting, and Economic Stability).  All New Pathways programs are required to offer all three activities:
Healthy Marriage – Activities to promote marriage or sustain marriage through activities, such as:
Counseling, mentoring, disseminating information about the benefits of marriage and two-parent involvement for children.
Enhancing relationship skills.
Education regarding how to control aggressive behavior.
Disseminating information on the causes of domestic violence and child abuse.

(Here's a thought. . . QUIT MAKING PARENTS CO-PARENT AND COOPERATE WHEN THERE IS DOMESTIC VIOLENCE!)

Marriage preparation programs.
Premarital counseling.
Marital inventories.
Skills-based marriage education.
Financial planning seminars, including improving a family's ability to effectively manage family business affairs by means such as education, counseling, or mentoring on matters related to family finances, including household management, budgeting, banking, and handling of financial transactions and home maintenance.
Divorce education and reduction programs, including mediation and counseling.
Responsible Parenting – Activities to promote responsible parenting, such as:
Counseling, mentoring, and mediation.
Disseminating information about good parenting practices.
Skills-based parenting education.
Encouraging child support payments, and other methods.
Economic Stability – Activities to foster economic stability, such as:
Helping fathers improve their economic status by providing activities such as Work First services, job search, job training, subsidized employment, job retention, job enhancement, and encouraging education, including career-advancing education.
Dissemination of employment materials.
Coordination with existing employment services such as welfare-to-work programs, referrals to local employment training initiatives, and other methods.
FATHERHOOD REENTRY INITIATIVE  

(WHERE'S THE MOTHERHOOD REENTRY INITIATIVE?)
Responsible Fatherhood Opportunities for Reentry and Mobility Project Overview
The Responsible Fatherhood Opportunities for Reentry and Mobility Project (ReFORM) is a part of the U.S. Department of Health and Human Services (HHS), Administration for Children and Families (ACF) efforts to support responsible fatherhood and ex-prisoner initiatives. The ReFORM program funds projects that offer community-centered pre- and post-release responsible fatherhood and supportive services to soon-to-be and recently released fathers and their families.  The projects focus on fathers who are within three to nine months of release from incarceration or a father who has been released from confinement for six months or less.
Program Components
With a funding level of up to $1,500,000 per year for five years, ReFORM programs are encouraged to develop collaboration opportunities with other federal resources, including the U.S. Department of Justice's Second Chance Act grantees, U.S. Department of Housing and Urban Development's local Public Housing Authorities, and resources from local offices of child support enforcement. ReFORM projects offer ex-prisoners reentry and support services to fathers returning from incarceration.  Services include responsible fatherhood and healthy relationship activities, employment, housing referral, case management (e.g., counseling, legal aid, and mentoring), transportation, substance abuse and mental health services referrals, and family strengthening activities. Grantees may offer other interventions designed to help stabilize fathers returning from incarceration to assist them and their families and that contribute to a reduction in recidivism and progressions toward self-sufficiency.
Marriage and family strengthening programs address a myriad of issues, which result from a fathers' absence or involvement with the criminal justice system. The ReFORM programs differ from New Pathways for Fathers and Families programs in that the exclusive target population is incarcerated and re-entering fathers or fathers otherwise involved with the criminal justice system. All Responsible Fatherhood programs, which include New Pathways for Fathers and Families and ReFORM, are required to offer all three activities
Dakota County Board of Commissioners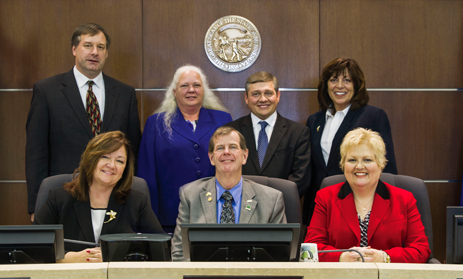 Front Row (l to r): Commissioner Kathleen A. Gaylord, Commissioner Thomas A. Egan, Commissioner Nancy Schouweiler (chair).  Second Row (l to r): Commissioner Chris Gerlach, Commissioner Mary Liz Holberg, Commissioner Mike Slavik, Commissioner Liz Workman.   

"Never underestimate the ability of government bureaucrats to play dumb about other peoples' problems and exploit it to the hilt in the name of helping those people." 
www.nafcj.net
It's time to make our public servants start acting as such or get them out of office. I'm just sayin!