More than a month after they were ordered to return to Kansas with their father, the Wolferts sisters are speaking out about alleged trauma they've incurred since being moved in March.
Danielle and Sydney Wolferts, 15 and 16, respectively, were found at 3:30 a.m. Jan. 3 in Pleasant Grove with their mother, Michelle Wolferts, at the Green Grove Apartments. The two sisters were reported missing in July 2014 while they had visitation with their mother.
The two girls, along with their older sister, Brittany Wolferts Dangerfield, and their mother have accused their father, Brian Wolferts, of psychological and emotional abuse and neglect on multiple occasions. He has constantly defended himself and said the alleged abused is a part of brainwashing brought on by his ex-wife.
On Wednesday and Thursday, two separate hearings were held by Judge Christine Johnson to discuss custodial and divorce matters.
On Wednesday, Johnson noted that Brian Wolferts has violated numerous court orders, the first being that he's kept the girls in his home.
When the girls were ordered back to Kansas, they were ordered to live with a neutral third party while legal matters were sorted out and because a Utah Division of Child and Family Services investigation found reason to believe he was emotionally abusive.
As a part of their release to Kansas, court record show both parties were to suggest a credible therapist within a week. Court records show the therapist has been uncooperative with the guardian ad litem in reporting the girls' progress, and a new therapist has been recommended.
The two were also supposed to have supervised visitation and monitored phone calls with Dangerfield and their mother. But since they've been with their father, not even the guardian ad litem has been able to speak with them.
"It's very concerning. Their safety is a huge concern," Dangerfield said. "A lot of people hoped that if and when they went back, everything would go smooth. That is exactly the opposite of what has gone on."
Court documents show Johnson was frustrated with these violations, acknowledging that an experienced and credible therapist needs to be counseling Sydney and Danielle. Johnson also ordered that the guardian ad litem be allowed to speak privately with the girls.
"Every court order that he was ordered, he refused to do any of it," Dangerfield said.
The guardian ad litem reported on Thursday to Johnson that she spoke with Danielle and Sydney Wednesday night, and said they don't feel safe in their father's home.
"They said they were afraid to talk because of repercussions," Dangerfield said. "They said they've been roughed up and extremely traumatized since they were taken in March."
Dangerfield said Danielle and Sydney didn't discuss to what degree they've been traumatized, but they told their guardian ad litem they're not lying.
"They'd take a polygraph and do anything to prove they're telling the truth," Dangerfield said.
Dangerfield said another court hearing with Johnson is planned for the future, but the date has not yet been set.
Dangerfield said she hopes her sisters can speak more about their circumstances to smooth out the numerous accusations flying from both sides of this issue that they've found themselves at the center of.
"It's really scary that two girls who have tried and tried to speak haven't had their words heard," she said.
Kurt Hanson is the Breaking News and Courts reporter for the Daily Herald. He can be reached via email at khanson@heraldextra.com. Follow him on Twitter: @hansonherald.
---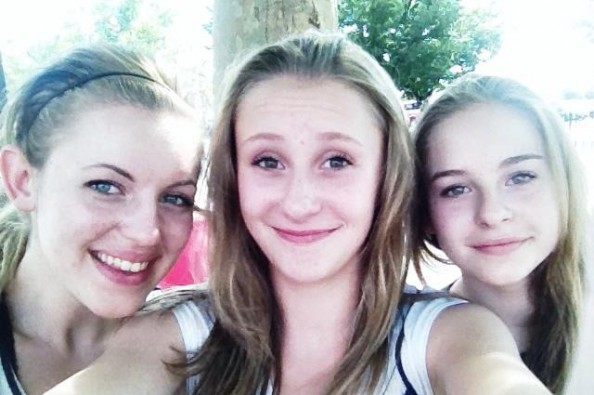 A message from Brittany:
For regular updates please see my blog at
http://wolfertssisters.blogspot.com
I love my sisters deeply. I hope and pray they can be returned to safety soon. I am so worried about their future.  The day I turned 18 I left the custody of my father for many reasons I won't post here.  My uncle on my mom's side of the family helped me set up this account.  Nobody on my dad's side of family support me at all and have shunned my sisters and I for speaking out. The funds will be only be used to help wth any legal representation and court fees for me and my sisters (Dani and Sydney Wolferts – ages 14 and 15) to at least be heard when we find them. I am challenging a system that doesn't want to hear me and turns me away when I am just trying to be a voice for my sisters and express myself based on my personal experiences. I may also need help in the Junvenille court system along with any therapy type requirements the court system could require for my sisters. I don't know what's going to happen but I can't live without knowing that I at least tried to have their situation and circumstances known as I have lived what they are going through. I am working and using my own funds and any of my spare time to hopefully help them be found and have a voice. I have a scheduled hearing for the beginning of October. My court case will have the details that I am not willing to state publicly, but they are seeking to feel safe. All your prayers and any donations are so much appreciated.
I encourage any Lawyers, Guardian ad Litems, family law students, etc, who understand Utah law and Juvenile law to come to my court hearing so that many eyes can can at least witness that the courts handle my case with unbiased and correct proceedings.
A little more about me: I am a 20 year old college student who already has my associates degree and am working towards a degree in Behavioral Science. I had to take time off my college studies to help fight for my sisters. I recently was married to a wonderful man that supports me wholey. My passion is Art but I want to be a counselor to help kids that have been put in tough situations beyond their control. My Uncle, Troy Olson helped me set up this page.