Group of Minnesota parents calls for shutdown of Child Protective Services
ST. PAUL, Minn. (KMSP) – A group is calling for a federal court to shut down Child Protective Services after claiming the agency takes children away from parents without due process.
"Stop Child Protective Services from Legally Kidnapping Children" filed a motion Tuesday for a permanent injunction to immediately close CPS, calling the agency's practices unconstitutional.
Dwight Mitchell, who created the group, is on a crusade to stop what he calls "legal kidnappings." He says his son was taken unfairly from him for 22 months. Mitchell says these stories may be hard to believe, but they are not uncommon at all.
"Our phones have not stopped ringing and our email inboxes are overflowing," said Mitchell. "Our association had 250 members we have now grown to 1,265 in less than 30 days."
Ten-month-old Zayvion has been away from Amanda Weber, his mother, in foster care for just over a week. The ordeal started when Weber took her son to the hospital with a cough. The doctor deemed him stable and notes show the diagnosis was, in fact, a cough. However, the recommendation was that the patient should have stayed. Weber took him home.
"After waiting, I had asked to leave because I wanted to put my kids to bed and I had my three-year-old with me and I asked if there was anything else that had to be done," said Weber. "They said 'No, there was no other testing or anything that needed to be done.'"
In a couple of days, police were at her door and took Zayvion to the doctor.
"She checked him out, all his vitals were stable," she said. "They already had a foster parent in the room, in the room to remove my son before they ever proved … before they ever proved there was an emergency situation."
Mitchell says he believes it all comes down to money.
---
Read the current full complaint, Stop Child Protection Services from Legally Kidnapping et al v. Dakota County Social Services et al, filed June 5, 2018, in United States District Court – District of Minnesota, by attorney Erick Kaardal on behalf of Dwight Mitchell, his children and Stop Child Protection Services from Legally Kidnapping
https://www.facebook.com/groups/StopCPSFromLegallyKidnapping.
---
Parents File Federal Civil Rights Lawsuit Against Minnesota Because CPS Kidnapped Their Children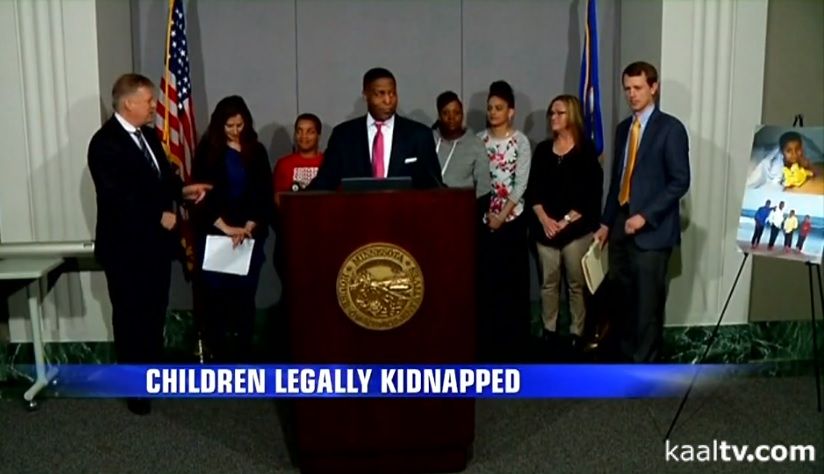 Dwight D. Mitchell (center at podium) is the lead plaintiff in a federal lawsuit of parents suing the State of Minnesota for kidnapping their children via Child Protection Services. Image courtesy kaaltv.com.
---
RELATED