Supreme Court Justice Loughry faces 22-count federal indictment
by Rusty Marks STAFF WRITER   Jun 20, 2018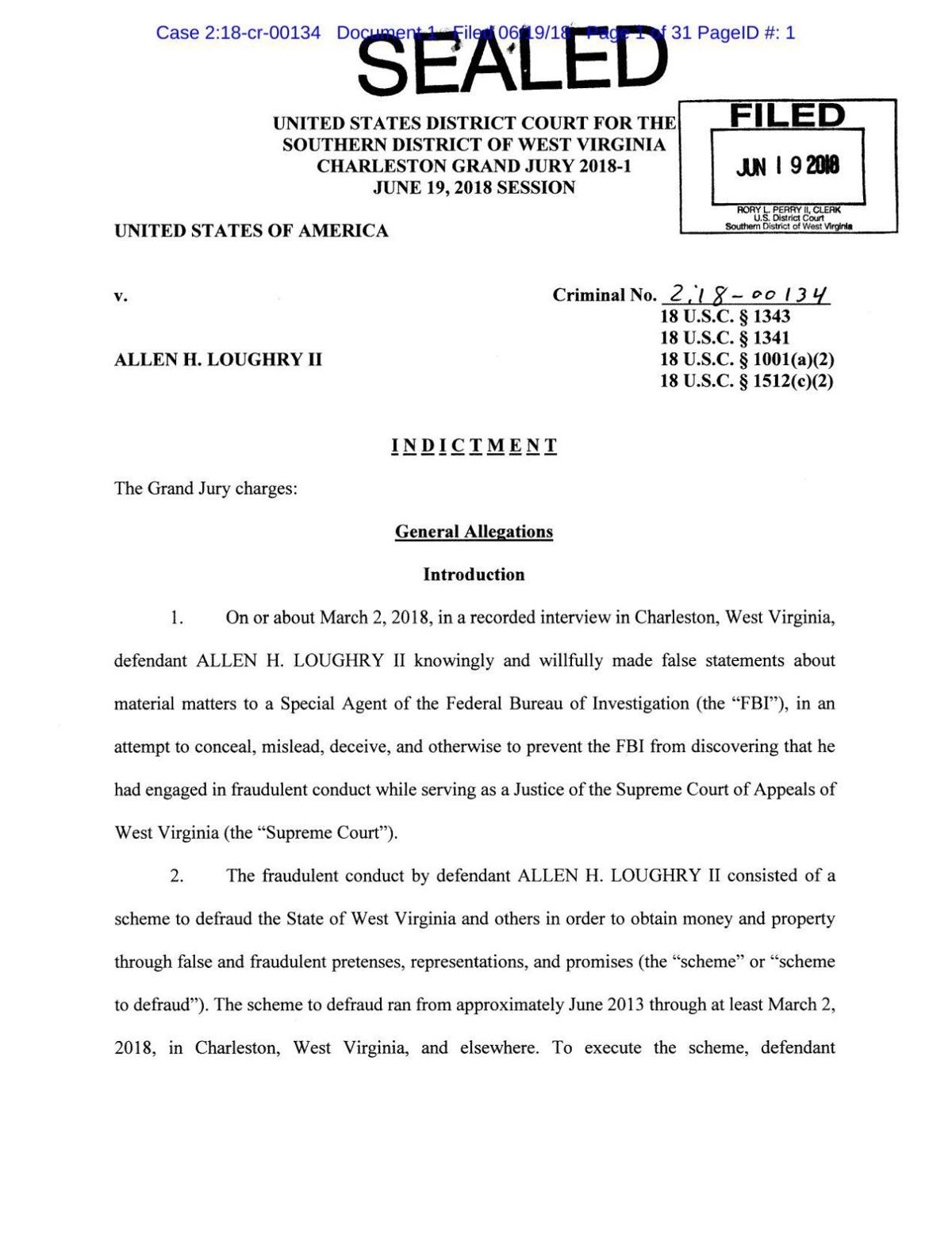 CHARLESTON — West Virginia Supreme Court Justice Allen Loughry was indicted on federal corruption charges Wednesday in a 22-count indictment handed up in U.S. District Court in Charleston.
U.S. Attorney Mike Stuart of the Southern District of West Virginia said the indictment includes 16 counts of mail fraud, two counts of wire fraud, three counts of lying to federal law enforcement officers and one count of witness tampering.
If convicted of all charges, Loughry could face a maximum sentence of up to 395 years in prison and up to $5.5 million in fines, Stuart said.
"You can lie to the media, but you cannot lie to a federal law enforcement official," Stuart said.
"Lying to a federal agent is a very, very serious offense," Stuart said, "especially when the lying is done by a Supreme Court justice."
The 31-page indictment alleges Loughry lied to federal agents who were investigating the expenses that went into remodeling Loughry's office at the Supreme Court, his use of state-owned vehicles and his use of a desk designed by state Capitol architect Cass Gilbert, which Loughry had allegedly removed from the Capitol and taken to his home. Loughry Indictment
Loughry also allegedly tried to influence the testimony of a Supreme Court employee during a grand jury investigation into "excessive and fraudulent expenditures by the Supreme Court," according to the indictment.
The indictment alleges Loughry used his office to attempt to defraud the state from June 2013 through at least March 2018.
Loughy is accused of trying to defraud the state by allegedly falsely claiming mileage for trips, using government vehicles and credit cards for his personal use, taking the Cass Gilbert desk home and lying about his actions.
Stuart said Loughry also allegedly tried to tamper with a witness being questioned about his office renovations.